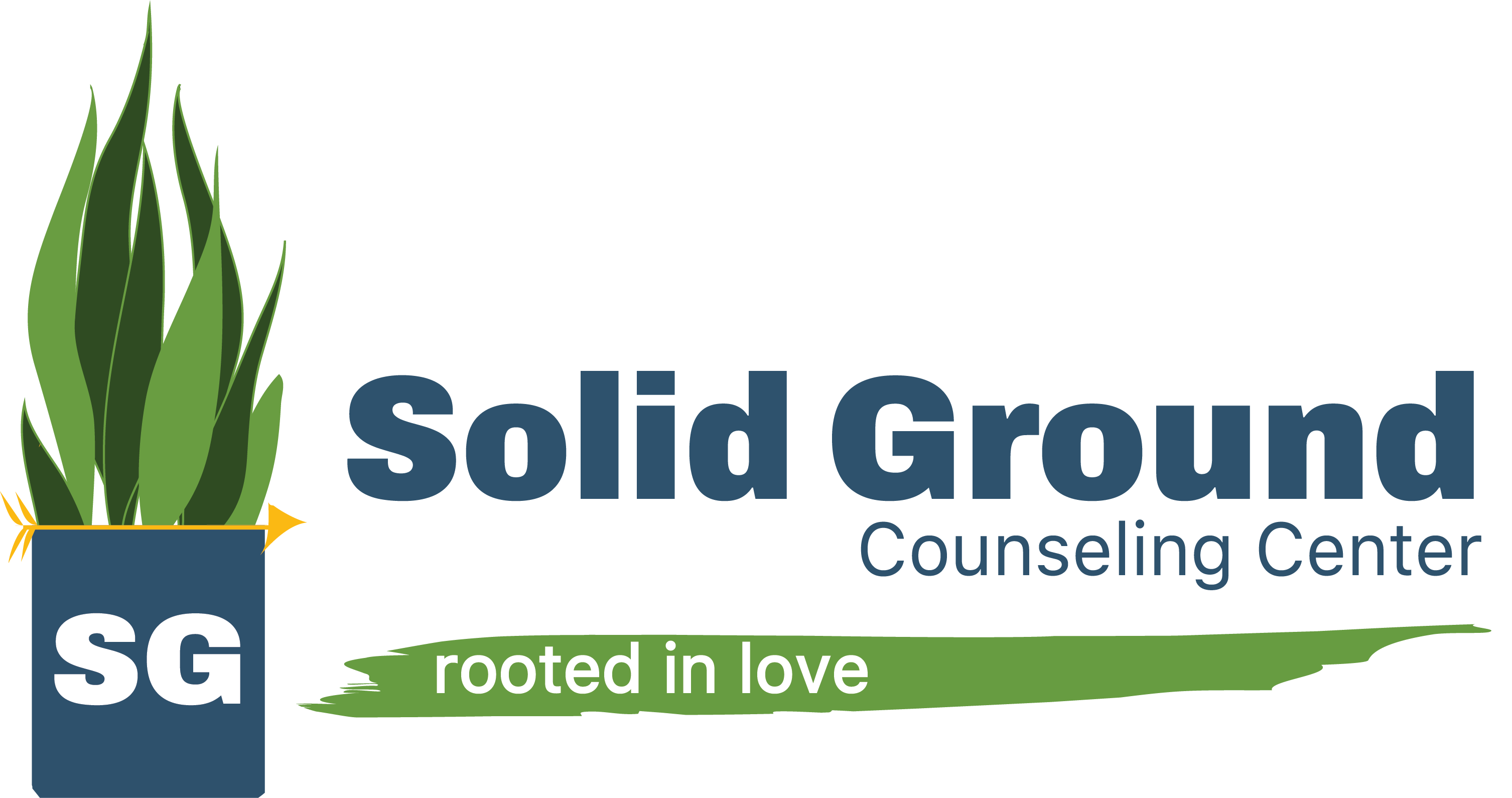 I am so excited to share my brand design! 
This has been a labor of love over the past few months – and the thoughts that landed me with this particular aesthetic have been in motion for close to a year. Since I am a talker, I want to share a little about the why behind the new elements in the design.
When I founded Solid Ground Counseling Center (lovingly referred to as Solid Ground) there was this vision to meet people where they were and help them experience love so they could grab hold of hope, which I believe propelled them into growth. It was the tagline for my business for a long time. While I still believe in the process of love | hope | grow, this past year was one of immense personal growth for me. As I reflected on how that impacted the way I thought about my business, I realized it really is rooted in love. This emerged as the new tagline for Solid Ground because I believe it is the foundation of absolutely everything we do here.
The original logo, centered on the arrows, represented the path forward. I believe that while we cannot go back, we can use the past to inform us of our steps moving forward. The arrow concept still holds true, but as my understanding of people, behaviors, and healing has grown, thus the brand needed to as well.
The new logo incorporates the arrow on the planter. I couldn't quit lose that piece entirely 😉 The plant on the new logo is a perfect visual representation of how I picture growth. I always giggle when I see the meme that talks about "Get sunlight, water, and fresh air because we are basically plants with complicated emotions". It is funny, but true! I think humans need love and nourishment to thrive. When we lack these basic necessities, our roots (the source from which growth is possible) just become ineffective. We struggle to survive, and thriving is off the table. BUT the hardiness of nature, of plants, is SO awe-inspiring. I have seen plants with essentially non-existent root systems get nourished from the top, supported from above and it provided the time necessary for new roots to develop. Once that happened the plant had the opportunity to grow to its maximum potential! Sound familiar??
I chose a snake plant for the beauty they have. To me they represent elegance and strength in the face of uncertain circumstances. They are hardy and resilient, growing slow but steady so long as they have the proper conditions. When neglected, these plants can continue to sustain for long periods, and are relatively quick to bounce back. People, right?
My new colors are based on visually representing adjectives like calm, joy, growth, hope, stability, positivity, freshness, restoration, trust, and patience. I hope you feel these things in the new design.
My desire moving forward is that each client, supporter, and business partner will continue to see how much love drives our work. We only move forward from here! Our business model is not changing, the services are still the same, but we hope that the message we visually convey more accurately represents the work that is done within the walls and hearts of our amazing little center.
THANK YOU for the opportunity to serve you for 2.5 years. I am so humbled and deeply grateful.
Stay well friends. ❤️
#solidgroundmadison #solidgroundcounselingcenter #rootedinlove #mentalhealthmatters